SAZJ,SAZJ..S ROD END MANUFACTURER
Rod body with right or left-hand male thread.Rod body pressed around inner ring.Surface of rod body zinc plated.In inch dimension series.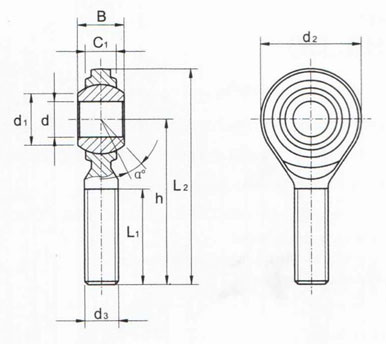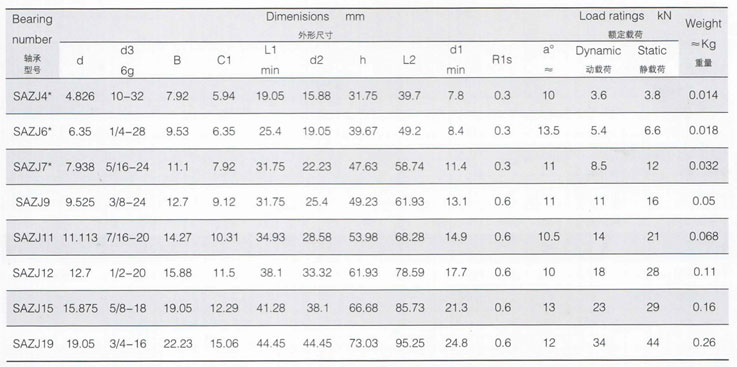 For left-hand thread.please add surffix "L",e.g.SALZJ 12. Lubricating hole or grease nipple isn't available for sizes marked "*". When a grease nipple is required for other sizes,please use the sign SAZJ..S. Load ratings apply only to rod ends without lubricating hole or grease nipple.
Copyright © 2007 Chinabase power transmissions Co.,Ltd. All rights reserved
E-mail:export@power-transmissions.com
Tel:86-571-85865398 Fax:86-571-85865066 PC:310012
China motor bases manufacturer, Specialist in: Rod end,GF..DO,GF..LO,GK..DO,PHS,POS,SA..BK,SA..PK,SAZP..S,SI..E(S),SI..ES 2RS,SA..E(S),SA..ES 2RS,SI..T/K,SA..T/K,SI..BK,GIR..UK,GIR..UK 2RS,GAR..UK,GAR..UK 2RS,SIZJ,SIZJ..S,SAZJ,SAZJ..S,GIHR..DO,GIHR-K..DO,GIHN-K..LO,GIHO-K..DO,SI..PK,SIZP..S,SQ..-RS,SQD,SQZ..-RS.
specialist in: China chains, Chain Sprocket, Speed reducer, Chain Couplings, transmission belt, spiral bevel gears